Summer is finally here in Hong Kong with its blue skies, abundant sunshine and the occasional massive rain storms.  With better rates from five star hotels and your choice of vendors during this quiet period, its no wonder that couples are considering to get married in Hong Kong despite the hot and humid weather. Keep these tips in mind for the perfect summer wedding!
Stay hydrated. Drink plenty of water in the days leading up to your wedding as dehydration can lead to heat exhaustion and heat strokes. Hong Kong's hot and humid weather can wreak havoc with the best-laid plans from your hair to the poor Groom, sweltering in a dark suit. So, make sure you have a couple of spare shirts for him and stay well hydrated so you don't wilt, that goes for your flowers too!
Cakes will melt faster than you can say German Chocolate! In the sweltering heat of Hong Kong's summer months, your cake will not only bake but also turn into a molten lava of a mess if the cake spends even minutes outdoors. Talk to the cake vendor to recommend the right icing and filling and make sure your cake stays in the refrigerated truck until the last possible minute!
Lather on the SPF! Last but not least, sweetheart necklines make for a pretty décolleté, not a pretty tan line. So lather on the SPF, talk to your makeup artist about what works with your skin and stay in the shade. Who likes sporting a sunburn on their wedding day?
Calling all Brides and Grooms to be! The Luxury Wedding Showcase 2014 is a 'must-do' for anyone planning a wedding in the next 12-18 months! Held at the InterContinental Hong Kong Ballroom this Sunday, March 9, (12 noon – 6:30 pm) and organized by yours truly, its your one-stop destination for wedding planning, with 35 of the city's top wedding specialists, from brands such as Tiffany & Co., Jimmy Choo to Central Weddings and other top photographers, invitation designers, makeup artists and much more. Catwalk shows, bridal workshops and complimentary champagne from Perrier-Jouet rounds off a fun-filled afternoon so don't miss out!
We still have some limited complimentary tickets available, call us at 2869 4222 if you're interested and we will even post them to you!
Planning a wedding can feel like a never-ending list of tasks and errands for the couple.  Not to mention, once all the final arrangements are made, the couple are expected to have a great time, entertain all their overseas friends and close family and look like they have had hours and hours of beauty sleep. Having planned more weddings we can count in the last ten years, we have compiled a list of things that Brides sometimes forget to think about, even the ones with a wedding planner!
1. TRY ON YOUR DRESS, AGAIN
Even though you've tried on your dress at various fittings, try your dress on a couple of days before the wedding. If your dress is too snug or too loose, you could still make any last minute adjustments, if necessary.
Above dresses from Monique Lhuillier, available at Central Weddings
2. TAKE CARE OF YOUR BOUQUET
Keep your bouquet as fresh as possible by putting it in a glass or ice bucket filled with a little water. Bouquets are fragile, especially on a hot summer's day! And.. remember to bring it with you before you leave for the  church or a ceremony. It's easy to overlook.
Image from http://www.weddingchicks.com/2012/03/20/how-to-throw-a-barn-wedding/
3. BEFORE YOU GET DRESSED ..
Use the bathroom.. A big gown can be quite cumbersome, well you get the idea!
Above gown from Oscar de la Renta Spring 2014 collection available at Trinity Bridal
4. CREW MEALS
Your on the day vendors work very hard to create a beautiful day for you and they really appreciate a decent meal on the day. Don't forget to count them and pre-arrange this with your venue/caterer a couple of weeks before the big day. Be sure to include your photographers, videographers, their assistants, the band and technicians, your planners and your hair and makeup artists (if they stay for the whole day).
5. AFTER THE FACT
When the evening winds down, make sure you have appointed someone responsible to help you with your gowns, bulky gifts, mementos (such as your marriage certificate, guest books, leftover cake, favours ..) and more. Whether it goes up to your bridal suite or to your car, its better to plan this out rather than scramble at the end of the celebrations when the venue just wants to clear up and the vendors have all gone home.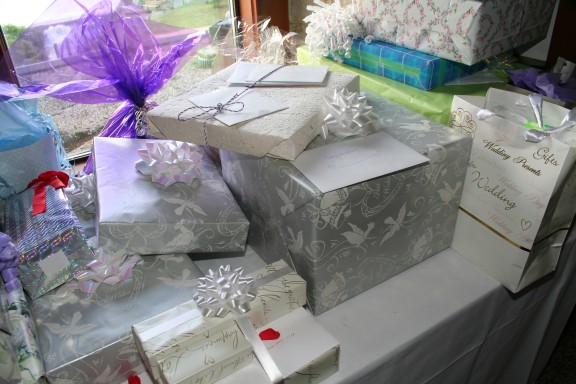 6. EXTRA FOOD
Help fight hunger and poverty by minimising food waste. You could also consider appointing a local charity such as Foodlink in Hong Kong to collect the surplus food to be distributed to various charities.