A gorgeous invitation sets the tone for your wedding day. Loved this little mood board put together by talented invitation studio, Bella Figura. Think row boats, dreamy, vintage lace. Sigh.
The below design with two colour letterpress on gorgeously thick Italian milled cotton paper for 100 pc of main invitations with an unprinted envelope is around HKD 8,500 inclusive. Available in Hong Kong exclusive at yours truly!
Photo Credits: Lisa O'Dwyer
We were honoured to be working alongside such talented vendors such as Steve Steinhardt, Living Cinema and Ellermann Flower Boutique. Of course, honoured as well to be included in Style Me Pretty's blog for this beautiful wedding we planned last January in Hong Kong for a lovely couple.
Click here for the full story from Style Me Pretty and for the rest of the stunning images from Steve Steinhardt.Be sure to watch Living Cinema's unique film feature on the Style Me Pretty post too!
All the images above from Steve Steinhardt Studios.
From the Bride (as told to 'Style Me Pretty') … We met as students in medical school and dated for seven years before becoming engaged. Jason and I always wanted a simple and romantic wedding, with a classic elegance woven into every detail. We knew that our day would include elements of us as a couple and as individuals. We both enjoy travel and are partial to locations near the ocean. The Hong Kong Country Club's ocean view provided the perfect backdrop for our dream wedding. Inside the property, it is a peaceful atmosphere that allows you to escape the hustle and bustle of the city. It was the perfect location for us to celebrate with our family and friends. 
We loved the way Steve portrayed us during our engagement session in Bali and in Vermont. It was, therefore, no surprise that we invited him to capture our Hong Kong wedding as well. Our wedding incorporated traditional Chinese customs, a tea ceremony in the morning, with a western-style ceremony and banquet at night. It was the perfect Hong Kong wedding, blending culture, elegance, and most importantly, our two lives together.
Lots more gorgeous shots on Style Me Pretty!
Planning a wedding can feel like a never-ending list of tasks and errands for the couple.  Not to mention, once all the final arrangements are made, the couple are expected to have a great time, entertain all their overseas friends and close family and look like they have had hours and hours of beauty sleep. Having planned more weddings we can count in the last ten years, we have compiled a list of things that Brides sometimes forget to think about, even the ones with a wedding planner!
1. TRY ON YOUR DRESS, AGAIN
Even though you've tried on your dress at various fittings, try your dress on a couple of days before the wedding. If your dress is too snug or too loose, you could still make any last minute adjustments, if necessary.
Above dresses from Monique Lhuillier, available at Central Weddings
2. TAKE CARE OF YOUR BOUQUET
Keep your bouquet as fresh as possible by putting it in a glass or ice bucket filled with a little water. Bouquets are fragile, especially on a hot summer's day! And.. remember to bring it with you before you leave for the  church or a ceremony. It's easy to overlook.
Image from http://www.weddingchicks.com/2012/03/20/how-to-throw-a-barn-wedding/
3. BEFORE YOU GET DRESSED ..
Use the bathroom.. A big gown can be quite cumbersome, well you get the idea!
Above gown from Oscar de la Renta Spring 2014 collection available at Trinity Bridal
4. CREW MEALS
Your on the day vendors work very hard to create a beautiful day for you and they really appreciate a decent meal on the day. Don't forget to count them and pre-arrange this with your venue/caterer a couple of weeks before the big day. Be sure to include your photographers, videographers, their assistants, the band and technicians, your planners and your hair and makeup artists (if they stay for the whole day).
5. AFTER THE FACT
When the evening winds down, make sure you have appointed someone responsible to help you with your gowns, bulky gifts, mementos (such as your marriage certificate, guest books, leftover cake, favours ..) and more. Whether it goes up to your bridal suite or to your car, its better to plan this out rather than scramble at the end of the celebrations when the venue just wants to clear up and the vendors have all gone home.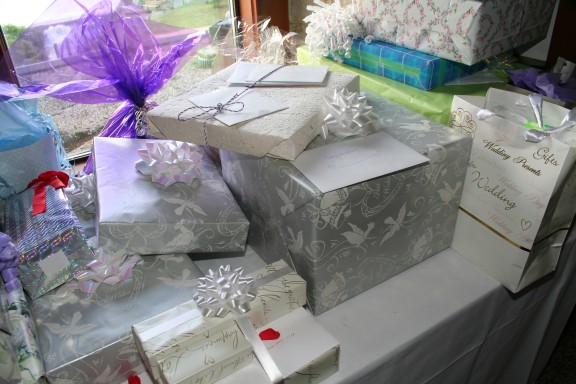 6. EXTRA FOOD
Help fight hunger and poverty by minimising food waste. You could also consider appointing a local charity such as Foodlink in Hong Kong to collect the surplus food to be distributed to various charities.